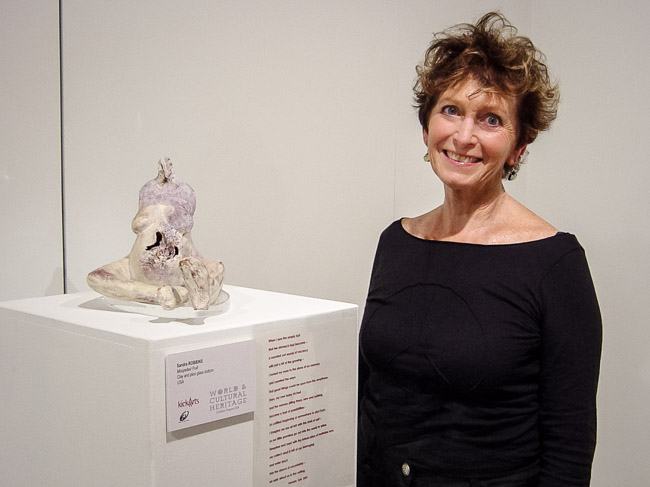 Personal History
Sandra Robbins is a native Californian, born in Southern California just east of Los Angeles. She attended college at USC and UCLA and was married shortly after college. She has two grown children. Her daughter lives in Santa Monica and her son is currently in New York state.
Sandra says her first career was being a homemaker and raising her perfect children. Shortly after her divorce she entered the business world working as a real estate broker, venture capitalist and a small business owner, this was her second career that has lasted over 40 years.
She began actively working with sculpture in the early 1970s when she found the first teacher who inspired her. She would take additional classes and whenever she could fit them in among her first two careers. By 1990 she met a second inspirational teacher, who she still works with, in San Francisco and she began showing her work.
Sandra has studied marble sculpting in Greece and Italy as well as always being faithful to her first love, working with clay. She is currently expanding her clay work to include metal and found materials within the clay.
Sandra splits her time between a home/studio in Santa Monica and a houseboat in Sausalito.
Education and Training
2006 - Present Currently working in cardboard under Don Hartman at Santa Monica College, Santa Monica, CA.
2001 - Present Currently working in clay, concrete, wood, metal work in private studio, Santa Monica, CA.
2000 Marble Works, Kyle Smith, marble carving and sculpture, Pietrasanta, Italy.
1999 Richmond Center For The Arts, classes in clay sculpture and finishing surfaces.
1998 Aegean Center For The Fine Arts, Jane Pack, emphasis on marble sculpture and life drawing, Paros, Cyclades, Greece.
1990 - 2002 Over 12 years of independent study and share studio with San Francisco clay sculptor and teacher, Deborah Hoch.
1982 - 1986 College of Marin various sculpture, drawing and bronze classes.
1974 - 1976 Old Brown's sculpture classes, clay, Mill Valley.